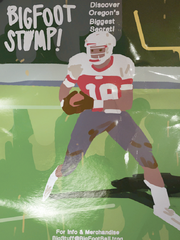 The Blackwell Bigfoots are the football team of Blackwell Academy. The club's name could be based on the rumors of a Bigfoot living in the forests of Arcadia Bay.[1]
Across the Blackwell campus, there are many references to the team in the form of posters and flyers.
Dana Ward also mentions the impending Bigfoots vs. Razorbacks game on Friday (the day of the tornado). The game will begin at 7pm on the Blackwell field. Dana herself is a big fan of the Bigfoots, made evident by a banner for them being hung up in her room, and her slate, eager for the team to win.
Known Players
Known Games
October 11, 7PM - Bigfoots vs Sunnydale Razorbacks (Blackwell field)
November 4, 5PM - Bigfoots vs Oldport Slugs (Blackwell field)
November 6, 6PM - Bigfoots vs Dillon Panthers (outside of Arcadia Bay)
November 10, 5PM - Bigfoots vs Sunnydale Razorbacks (Blackwell field)
Past Results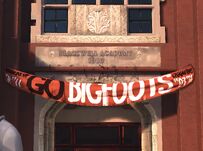 As mentioned on the banner above Blackwell Academy's main entrance, the Bigfoots got the following results over the past years:
Champions in 2007 and 2008
Runners-up (second place) in 2004 and 2011
Trivia
As evident from the Blackwell Hallway concept art, the Bigfoots were originally meant to be called "The Fishermen".
The Bigfoots sell merchandise which you can order at their e-mail address BigStuff@BigFootBall.trog.
The Dillon Panthers that the Blackwell Bigfoots were going to play on November 6th is clearly a reference to the TV show "Friday Night Lights", where the main football team features in the show is named the Dillon Panthers, based in the fictional town of Dillon, Texas.
Gallery
References
↑ Max comment on an optional photo: "Every photographer should have one blurry Bigfoot shot…"