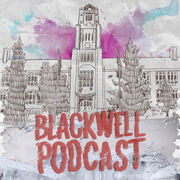 Blackwell Podcast is a fan-made podcast that discusses the Life is Strange franchise and interviews special guests from the cast and crew behind the games. Its first episode was released on August 30, 2015, introducing a long-running series meant to be about "everything from Lisa the Plant to the in-depth analysis of game themes and character personalities". Their YouTube channel description states "We are Blackwell Podcast, a fan-made unofficial podcast dedicated to everything Life is Strange." They have their own section on the Life Is Strange Fans fan website, which they use for question submissions and information.
Extra Life Livestreams
Edit
The Blackwell Podcast did an Extra Life Livestream on July 16, 2016, with many special guests from the team behind Life is Strange and the community. A total of $3,292 was raised during the event.[1]
The Blackwell Podcast did a second Extra Life Livestream on November 25, 2017, with many special guests from the teams behind Life is Strange: Before the Storm and Life is Strange. With a goal of $1,200, a total of $6,258 was raised.[2]
Episodes
Edit
Name

Image

Official Description

Release Date

Type

Blackwell Podcast Episode 1 - Pilot
Episode 1 of a podcast where we talk about everything Life is Strange. This is the pilot of a hopefully long running series where we talk about everything from Lisa the Plant to the in-depth analysis of game themes and character personalities.
August 30, 2015
Introduction
Blackwell Podcast Episode 2 - Polarized
The Blackwell Podcast team returns to talk about the final episode of the hit game 'Life is Strange' from beginning to end, whilst appreciating fan made products from the community.
November 22, 2015
Discussion
Blackwell Podcast Episode 3 - Rachel Amber
The third episode of the Blackwell Podcast revolves around the story of Rachel Amber, the relationships she has had, and how it affected the story of Life is Strange, with the inclusion of a announcement regarding a future episode.
November 29, 2015
Discussion
Blackwell Podcast Episode 4 - Dayeanne Hutton
In this episode we interview the incredible Dayeanne Hutton, the voice actor for Kate Marsh, Alyssa Anderson, and Juliet Watson, ranging of a variety of topics!
December 7, 2015
Interview
Blackwell Podcast Episode 5 - Nathan Prescott
This week's episode of the Blackwell Podcast is a discussion of one of the most complex in Life is Strange; Nathan Prescott. From stories to relationships, we touch on pretty much everything about him.  With Everyday Heroes and a small announcement at the end, what's not to like?
December 12, 2015
Discussion
Blackwell Podcast Episode 6 - Max Caulfield
In this installment of Blackwell Podcast, we introduce our new co-host Jess, and with her discuss our heroine Max (never Maxine) Caulfield.  We give our take on her powers and her relationships with those around her.  Of course our Everyday Heroes features fan-art of none other than our dear Max
December 19, 2015
Discussion
Blackwell Podcast Episode 7 - Chloe Price
In this episode we discuss Chloe Elizabeth Price.  Is she Arcadia Bae?  Is she an immature nightmare?  We give our thoughts on our blue haired friend.
December 26, 2015
Discussion
Blackwell Podcast Episode 8 - Hannah Telle
We are excited to present our inteview with Hannah Telle, the incredible voice actress who brought our heroine Max Caulfield to life!  We talk with her about her experience voicing the game, her work on her music album, and she answers some submitted fan questions.  It was an incredible experience for the Blackwell Podcast staff, and we hope you enjoy what she has to say.
January 4, 2016
Interview
Blackwell Podcast Episode 9 - Kate Marsh.
In this episode we discuss the adorable Kate Marsh.  We take a look at the trials and tribulations, friends and foes, and anything and everything about everyone's favorite "Cinnamon Bun".  We take a look at some very lovely Kate fan-art, and announce a give away we will be doing in March!
January 10, 2016
Discussion
Blackwell Podcast Episode 10- The Community
We our excited to reach a couple of big milestones!  First, we now have over 1k subscribers!  Secondly, this is our 10th episode, and as such we wanted to make it about the Life is Strange fan community, whom without we would not have reached where we are.  This episode is dedicated entirely to fan-creations, both submitted and found.  We discuss what we love about each piece after a brief recap of our Everday Heroes winners up to this point.  Thank you SO much for being with us, and we hope you enjoy this episode as much as we enjoyed making it!
January 19, 2016
Community Creation Showcase
Blackwell Podcast Live Stream
Our first live stream!  Thanks so much for every one that joined us!
January 22, 2016
Livestream
Blackwell Podcast Episode 11 - Mr Jefferson
In this episode we talk about the notorious, mostly hated Mark Jefferson. Though despicable, deplorable, and all around disgusting, you have to acknowledge he is an interesting character, right? We think so, and we discuss it in this installment. When it comes to talking about characters of Life is Strange, you always take the shot.
January 24, 2016
Discussion
Blackwell Podcast Episode 12 - Chrysalis
In honor of the 1 year anniversary of Life is Strange episode 1, we dedicated an entire episode to it! Chrysalis was the episode that started it all, and kicked off (there it is again) this past year with such an incredible game.
January 31, 2016
Discussion
Blackwell Podcast Episode 13 - Alejandro Arque
In this episode we interview the awesome Alejandro Arque, game designer at Square Enix who worked diligently on the game we all love, Life is Strange! We asked him a few of our own questions, as well as questions submitted by fans of the game. We had a blast with the interview, and hope that you enjoy it!
February 6, 2016
Interview
Blackwell Podcast Episode 14: Warren Graham
In this episode we "go ape!" over Warren.  Or Jess does.  We discuss what we liked, what we didn't like, and just who our white knight is for Episode Fourteen: Warren Graham
February 14, 2016
Discussion
Blackwell Podcast Episode 15 - Christian Divine
In this week's installment of the podcast, we talk to none other than Christian Divine, who was the writer for the game! Hear about his experience with the game, and maybe get some tips about writing yourself!
February 21, 2016
Interview
Blackwell Podcast Episode 16 - TaylaChan
We kick off our community guest suite with Tayla, a very talented cosplayer known on social media as Tayla Chan.  We talk to her about what started her journey as a cosplayer, and her experience with both the game Life is Strange, as well as cosplaying characters from it.  This is was an exciting and fun interview, so make sure to check it out!

Unfortunately, there are some sound quality issues on this episode. We cannot do anything about it, and hope it isn't too distracting, as Tayla was a real joy to interview!

February 28, 2016
Interview
Blackwell Podcast Episode 17 - The Vortex Club
We managed to get ourselves on the VIP list this week where we talk about the Vortex Club. From Victoria to Sarah, Nathan to to Logan, we discuss what the Vortex Club is, and the members that make it. Join us in our End of the World Party!
March 6, 2016
Discussion
Blackwell Podcast Episode 18 - Amethyst Leon
If Chloe Price were a real person, she'd be cosplayer and Life is Strange (hella) enthusiast Amethyst Leon.  Not only that, but we interviewed her in this week's episode of the show.  If you want to know all about how she came across the game, what got her started in cosplay, and just what life is like in general for Chlo-er Amethyst, then this is the episode for you!
March 14, 2016
Interview
Blackwell Podcast Episode 19: Scott Blows
In this very special episode of Blackwell Podcast, we had the honor of speaking with former community manager, Scott Blows! We talk about his experience working at Square Enix, his work for Life is Strange, and about the he himself! It was a great experience for us, and we hope you enjoy!
March 21, 2016
Interview
Blackwell Podcast Episode 20 - Ashly Burch
We are absolutely elated to present you with this hella special episode of Blackwell Podcast. All of the dollars for the Ashly Burch jar seemed to have paid off, and we couldn't be more excited to have this interview with none other than the voice of our Arcadia Bae, Ashly Burch.
March 23, 2016
Interview
Blackwell Podcast Episode 21 - Koethe
In this episode we are excited to interview the stellar fan musician Koethe! It was an absolute honor to have him on the show, and we hope you enjoy his sharing his experiences with writing music, and Life is Strange! We also have an incredible exclusive acoustic performance of "Price" that you won't want to miss. Finally, we're pleased to announce we're joining efforts with lifeisstrangefans.com! Our site will be linked through there, now, and we'll be working together with them to bring as much content to fellow Life is Strange fans as we can!
March 26, 2016
Interview
Blackwell Podcast 2K Celebration Stream!
N/A
April 2, 2016
Livestream
Blackwell Podcast Episode 22 - Cissy Jones
In episode 21 of Blackwell Podcast, we had the exciting opportunity to speak with the hardworking and prolific Cissy Jones, whom we all know as Joyce Price, Chloe's mother. Hear what she has to say about her role of tackling parenthood, as well as living on the street as the Homeless Lady in this installment of the show!
April 2, 2016
Interview
Blackwell Podcast Episode 23 - TheAwakened
In this episode of Blackwell Podcast, we had the wonderful opportunity of speaking with Eclair, a Max cosplayer who goes by theawakened_. We greatly enjoyed hearing about her experiences with cosplaying, her journey through the game we all know and love, as well as hearing thoughtful insight and advice for any potential cosplayers out there! We hope you submitted your picture for Everyday Heroes, Eclair!
April 10, 2016
Interview
Blackwell Podcast Episode 24 - Nik Shriner
In this episode of Blackwell Podcast, we don't get shot in a girl's bathroom but instead have the lovely opportunity of talking with the hilarious Nik Shriner who voices Nathan, Daniel, and others. Don't get left in the darkroom by missing this episode!
April 24, 2016
Interview
Blackwell Podcast Episode 25 - LifeisStrangeFans.com
In episode 25 of Blackwell Podcast, we have the privilege of speaking with the administrator and creator, and mods of the incredible fan site http://lifeisstrangefans.com ! We talk about the creation process, what the site itself is other than just our new home, as well as getting to know the people behind the reigns of the site. We are marveled at the huge undertaking the creation of the site was, as well as keeping it going, and hope you join us there if you haven't already! We also talk about a new competition to win official Life is Strange merchandise, because who doesn't like winning stuff, right? So make sure to look out for that as it's going on right now!
May 8, 2016
Interview
Blackwell Podcast Episode 26 - Toby Palm
In this episode of Blackwell Podcast we are joined by none other than Toby Palm, current community manager for Life is Strange. We talk to him about his experiences with gaming, Life is Strange, and what it's like to provide us fans with all the content on social media and elsewhere. We hope you enjoy hearing from him as much as we enjoyed talking with him!
May 22, 2016
Interview
Blackwell Podcast Channel Trailer
A brief insight on what we bring towards in our Life is Strange dedicated podcast.
June 16, 2016
Trailer
Blackwell Podcast Episode 27 - Out of Time
After a hiatus, we have returned with a belated episode about Out of Time, episode 2. It's good to be back! Join us as break down episode 2, talking about our initial experiences and impressions. It all culminates to the ability to save Kate. What did you do? Want to find out if we saved Kate? Listen to the episode! We also mention a couple of announcements you won't want to miss. As always, we love you, and thanks for joining us!
June 22, 2016
Discussion
Blackwell Podcast Episode 28 - Chaos Theory
Any slight variation in condition may lead to extraordinary and incomprehensible outcomes according to Chaos Theory, so to stay safe we recommend not hitting pause on our latest episode of Blackwell Podcast, where we talk in depth of the Life is Strange episode of shared name. From kra-cans to otters in your water, anything is possible as we celebrate (belatedly) the one year birthday of Ep 3.
June 26, 2016
Discussion
Blackwell Podcast Live Stream 3
N/A
July 2, 2016
Livestream
Blackwell Podcast Episode 29 - Dark Room
After one month of absence, we find ourselves in the Dark Room in episode 29 of Blackwell Podcast. In this episode we discuss the extremely emotional and wildly gripping fourth installment of Life is Strange. Was it as emotional for you as it was for us? From an alternate reality to the reveal of the true killer, we cover in depth Dark Room.
August 18, 2016
Discussion
Blackwell Podcast Episode 30 - One Year Anniversary
On the 30th of August, Blackwell Podcast turned one year old! This episode is where we look back on all episodes, letting people know of stories behind the scenes, what we felt of certain episodes, and let you have your own input of what your personal highlights were. We are eternally grateful for all of your support the past year, and we hope to upload more episodes in the future!
September 9, 2016
Recap
Blackwell Podcast Episode 31- Contest Shortlist
In this episode of Blackwell Podcast, we speak with 4 of the 5 finalists for the music competition being held by lifeisstrangefans.com! We get the opportunity to meet them, get a little insight into how they write music, and learn how the came across Life is Strange! We were also joined by guest judge and ever amazing Koethe. We hope you enjoy all the songs, and can't wait to find out who will win!
September 24, 2016
Interview
Blackwell Podcast Live Stream 4
N/A
October 9, 2016
Livestream
Blackwell Podcast Episode 32 - Team Polarized
In this episode of Blackwell Podcast, we talk to the incredible cast of Team Polarized. We discuss with Amethyst, Alicia, Ray, Karli, and Haaku about what all went into the fantastic Life is Strange cosplay music video, including behind-the-scenes (and behind-the-memes) stories, as well as what Life is Strange means to each of them. You won't want to miss this fun episode!
October 10, 2016
Interview
Blackwell Podcast Episode 33 - Polarized (Redux)
With just a little over a year after the final episode of Life is Strange was released, we are doing a redux of our episode covering it! Have our views changed in the past year? We're also happy to have Jess' insight this round, as she was not yet with us when we covered Polarized. After months, we've also finally brought back Everyday Heroes! Hopefully this doesn't hit you in the feels too much.
December 4, 2016
Discussion
Blackwell Podcast Episode 34 - End of Year Special
2016: what a crazy year it has been. For us, for the fandom, and for life in general. We play the year off with testament of the effect Life is Strange has had on so many, including ourselves. We received several submissions of just how exactly the game has impacted the community, and are honored to be able to share them with everyone. Thank you all so much for everything you have done for our show, and we hope 2017 brings greatness for this community!
December 31, 2016
Open Letter Showcase
Blackwell Podcast Episode 35 - Soundtrack
The podcast team sit down and discuss the acclaimed soundtrack for the game. From Syd Matters, to Foals, to Jonathan Morali; Jamie, Joey and Jess talk about their favorite tracks. We consider this to be a great way to start off 2017!
January 23, 2017
Discussion
Blackwell Podcast Episode 36 - The Community Pt 2
In this Youtube exclusive for the 2 year anniversary of Chrysalis being released, Jamie, Joey and Jess showcase fan submitted content in this week's podcast. Ranging from cosplay to a delightful music cover, we also touch base on the future of the show
February 6, 2017
Community Creation Showcase
Important Blackwell Podcast Announcement
A public announcement about the show: Jess is no longer a part of Blackwell Podcast. Due to too many scheduling conflicts as well as some creative differences she will no longer be with us. We wish her all the best in her future endeavors and studies.

We also want to announce our upcoming interview with Alyzian, who is a concept and UI artist for Dontnod. She, among many other things, created for us the incredible artwork in Max's Journal. The deadline for questions for her is March 19th! Email them to us through our usual channels listed below.

March 8, 2017
Announcement
Blackwell Podcast Episode 37 - Alyzian
In this episode, we interview Alyzian, staff concept and UI artist at Dontnod who brought us Max's gorgeous journal. We hope you enjoy!
March 23, 2017
Interview
Blackwell Podcast Episode 38 - Bae vs Bay
We've asked all of our guests the big question: Bae or Bay? This time, we ask ourselves. A truly polarizing decision, we go over why we choose what we do. As always, discussion and debate is great, argument and attacking each other isn't, so keep the comments friendly!
April 6, 2017
Discussion
Blackwell Podcast Update
This week isn't so much of an episode, maybe a half-episode if you want to call it that (If it feels right to you) with updates on co-hosts, as well as a few announcements. We also have some ideas of how to help the podcast grow that we mention, so if any of that interests you let us know! We finish off with great pieces in an installment of Everyday Heroes!
April 19, 2017
Announcement
Blackwell Podcast Episode 39 - Blackwell Podcast 2.0
Join us as we set sail on Blackwell Podcast 2.0's maiden voyage.

We're excited to introduce our new co-hosts, Aaron, Sian, and Zach, as well as announce our new team-members, Brittanie, Gabe, Sebastian, and Spencer! With this we start our revamping process to bring a new and fresh face to Blackwell Podcast. We hope you come to know and love our new team-members, so make sure to give them a warm welcome!

This episode was recorded before the announcement of the Life is Strange sequel announcement, so stay tuned for speculation and hype for that!

May 18, 2017
Introduction and Announcement
Blackwell Podcast Episode 40 - Warren Redux
Join us as we go ape in our redux of our episode with Warren Graham. We discuss his role in the game, as well as finer points of his character. Did you agree to go to the drive-in? Did you ignore him altogether? We also have a special Warren themed Everyday Hereoes segment at the end, so don't miss out!
June 6, 2017
Discussion
Blackwell Podcast Livestream 5
N/A
June 11, 2017
Livestream
Blackwell Podcast Episode 41 - Before The Storm
After the big announcement at E3, the podcast team discuss the details behind Before The Storm from Deck Nine, their theories on what may entail and overall hype of this prequel about Chloe Price and the mysterious Rachel Amber!
June 18, 2017
Discussion
Blackwell Podcast Episode 42 - Victoria Chase
In this episode of the Blackwell Podcast, the team talks about Queen B herself; Victoria Chase. We talk about her story, her relationships with others and we wrap up with our Everyday Heroes segment! We hope to bring you more episodes in the near future.
July 31, 2017
Discussion
Blackwell Podcast Episode 43 - Time Travel
In this instalment of the podcast, Jamie, Joey and Zach talk about the aspect of time travel, alternate timelines and changes the player can make with a single choice. In addition to the Everyday Heroes Segment and some housekeeping towards the end, it's a great listen for all fans of the game!
July 31, 2017
Discussion
Blackwell Podcast Anniversary Stream
N/A
August 30, 2017
Livestream
Blackwell Podcast Episode 44: Awake
In this episode of Blackwell Podcast, the team discusses their impressions of the first episode of Before the Storm, Awake, and what they think will happen in future episodes of Before the Storm
September 16, 2017
Livestream and Discussion
Blackwell Podcast Episode 44 Part 2 - Awake
In this episode of Blackwell Podcast, the team continues their discussion on Before the Storm's first episode, Awake, and what they think will happen in future episodes of Before the Storm concluded by their schedule for the upcoming future.
October 10, 2017
Discussion
Blackwell Podcast Ep 45 - LGBTQ+ Representation
In this installment of the Blackwell Podcast, the team discuss the importance of representation in Life is Strange. We also listen to experiences from players which the game has helped them.
October 1, 2017
Discussion
Blackwell Podcast Episode 46 - Kylie Brown
In this instalment of the Blackwell Podcast, the team interview the voice behind the enigmatic Rachel Amber; Kylie Brown. Questions from acting to spirit animals are in this fun filled episode.
October 14, 2017
Interview
Blackwell Podcast Episode 47: Katy Bentz
In this episode of the Blackwell Podcast, the team roll a 20 and interview Katy Bentz, the voice behind everyone's favorite Dungeon Master: Steph Gingrich. Party up with us on our adventure as we get to know the incredible person Katy is!
October 21, 2017
Interview
Blackwell Podcast Episode 48 - Kiki's Cosplay Service
In this episode of the podcast, the team discusses cosplay, episodes and conventions with Kiki from Kiki's Cosplay Service. From college credit to love of cosplay, it's a fun time for every aspiring cosplayer!
November 5, 2017
Interview
Blackwell Podcast Episode 49 - Rhianna DeVries
In this episode of Blackwell Podcast, the team interview Rhianna, who provided the mo-cap and the voice for Chloe Price in Before The Storm. They talk about Chloe's character, how much they miss Sian, and what it means to be an actress.
November 11, 2017
Interview
Blackwell Podcast's Extra Life Stream Part 1
In case you missed it, here is Part One of the Extra Life Stream. We raised $6,243 for San Jorge's Children Foundation in PR! Thank you to everyone who donated and watched!
November 27, 2017
Livestream
Blackwell Podcast's Extra Life Stream Part 2
In case you missed it, here is Part Two of the Extra Life Stream. We raised $6,243 for San Jorge's Children Foundation in PR! Thank you to everyone who donated and watched!
November 27, 2017
Livestream
Blackwell Podcast Extra Life Part 3
In case you missed it, here is Part Three of the Extra Life Stream. We raised $6,243 for San Jorge's Children Foundation in PR! Thank you to everyone who donated and watched!
November 27, 2017
Livestream
Blackwell Podcast Episode 50 - Hailey Hayes
In the 50th episode of Blackwell Podcast, Jamie, Joey, and Aaron hang out with the wonderful Hailey Hayes as they learn how she became an actor, her experience with Life is Strange, and how she became the voice of the lovable Samantha Myers in Life is Strange: Before the Storm
December 10, 2017
Interview
Blackwell Podcast Episode 51 - Dillon Winfrey
In this episode of the Blackwell Podcast, Jamie, Sian and Zach interview the voice behind Mikey; Dillon Winfrey. They discuss the role, nerdy things and the overall experience of being a part of the Life is Strange universe.
December 17, 2017
Interview
Blackwell Podcast Episode 52 - Hannah Telle
Blackwell Podcast is back! After a brief hiatus, the team sit down and interview Hannah Telle, who provided the voice of everyone's favorite time travelling photographer; Max Caulfield. We discuss the latest episode Farewell, her music and what Life is Strange is to her.
March 24, 2018
Interview
Blackwell Podcast Episode 53 - Ashly Burch
In this week's addition of the podcast, the team are joined by Ashly Burch. 3 years ago, she helped bring Chloe Price to life and helped it end with reprising her role in the Farewell episode. We talk with her about the full journey of Life is Strange now that we have said 'farewell' to Arcadia Bay. We hope you enjoy!
April 7, 2018
Interview
Blackwell Podcast Episode 54 - Brave New World
In this episode of Blackwell Podcast, the team discuss the second episode of Before the Storm. Topics include Buzz Lightyear, milkshakes and a lot of fire.
May 4, 2018
Discussion
Blackwell Podcast Episode 55 - Mental Health Awareness
Since May is Mental Health Awareness Month, the team sit back and talk about their own struggles with mental health.
May 25, 2018
Discussion
Blackwell Podcast Episode 56 - Caleb Thomas
In this episode of Blackwell Podcast, we talk to the voice of Nathan Prescott in Life is Strange: Before the Storm, Caleb Thomas, and talk with him about his experience as Nathan in the prequel. Join us as we get insight into embodying a younger, less murderous Prescott son, as well as Caleb's experience with acting!
June 25, 2018
Interview
Blackwell Podcast Episode 57 - Captain Spirit
Join us on our awesome adventure as we talk about the new game released from DONTNOD: The Awesome Adventures of Captain Spirit! We give our impressions, discuss what we noticed, and theorize what's in store for us in September when Life is Strange Season 2 kicks off. Let us know what you thought of the game, any wild theories you may have, or any cool thing you might've spotted while playing!
July 8, 2018
Discussion
Blackwell Podcast Episode 58 - Hell is Empty
In this meaty episode, the podcast team discuss the final episode in Chloe and Rachel's trilogy "Hell Is Empty". Join in as they discuss stealing brands, their loves and their hates. Also included are exciting announcements for future episodes of BWP.
August 9, 2018
Discussion
Blackwell Podcast Awards
N/A
September 2, 2018
Awards
Blackwell Podcast Episode 59 - Farewell
In this episode of Blackwell Podcast, the team talk about Before The Storm's bonus episode: Farewell. We also say goodbye to the wonderful location of Arcadia Bay and the people who live there.
November 17 2018
Discussion
External Links
Edit
References
Edit