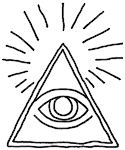 Choices and Consequences is a central gameplay element in Life is Strange: Before the Storm. The protagonist, Chloe Price, is presented with different choices in the form of available actions, dialogue options and optional interactions. The "All Seeing Eye" symbol will appear at the top of the screen after certain choices have been made indicating that "this action will have consequences" and, if it is a major choice, the scene will stop and time will freeze until the player makes their choice, playing a short sound effect immediately afterwards. Though not all actions, for example dialogue options, will have their consequences pointed out, as often several choices play together to create a certain outcome.
There also exists an "Intimacy_counter" variable for Chloe and Rachel's relationship which counts the decisions the player made[1] and a "CONVINCESERA" variable for convincing Sera to meet Rachel in the ending, which counts the dialogue options chosen by the player in the conversation with Sera at the mill.[2]
Episode One - "Awake"
Backtalk challenge:
Minor choice:
Frank's Weed
Minor choice:
Major choice:
Self-Help Book
Minor choice:
Minor choice:
Talking to Joyce
Major choice:
Give Joyce the money
Minor choice:
Eliot's Invitation
Minor choice:
Major choice/Backtalk challenge:
Minor choice:
Minor choice:
Minor choice:
Minor choice:
Rachel's Belt
Minor choice:
Earbuds
Minor choice:
Jump from the Train
Minor choice:
Relationship with Rachel
Major choice:
Principal Wells' Office
Major choice/Backtalk challenge:
Eliot and the play
Minor choice:
David's Request
Major choice:
Singing Man
Minor choice:
Chloe's debt to Frank
Minor choice:
Frank's Information
Backtalk challenge:
Rachel's single status to Steph
Minor choice:
Drew's Room
Major choice:
Drew's Money #1
Minor choice (only available if Chloe stayed in the room with Mikey):
Advice about Nathan to Samantha
Minor choice:
Victoria at the dressing room
Minor choice:
Rachel's road trip
Minor choice:
Relationship with Rachel
Major choice:
Chloe's attitude during the Dinner
Backtalk challenge:
Outfits
Chloe's dying plant
Minor choice:
David's Photo
Minor choice:
Drew's Money #2
Minor choice:
The Norths
Minor choice/Backtalk challenge:
Firefighter's Fund
Minor choice:
The Snitch
Minor choice:
Eliot confrontation
Backtalk challenge:
The Truth about Sera
Major choice:
Rachel's Mother
Minor choice:
Outfits
Flowcharts
Videos
References