Fire Emblem Warriors: Three Hopes - The Loop
Play Sound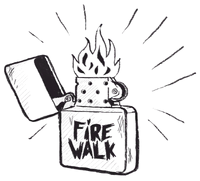 Firewalk is a punk rock band that is featured in Life is Strange: Before the Storm. In Episode 1, "Awake", Chloe Price goes to the local punk club wanting to see the band's gig.
Episode One - "Awake"
The band is having a concert at the old mill. Trying to get as close as possible to the stage, Chloe bumps into two skeevy guys and spills their beer on them. She then manages to watch the concert from the second floor for a short time before the skeevy guys return and threaten her. Chloe is rescued by Rachel Amber, and the two girls are shown dancing among the crowd.
The next morning, DJ Stan Stanwick is talking about last night's Firewalk concert on the radio broadcast "The STYR!", and two of their songs are being featured: "Are You Ready For Me", and "Lights, Camera, Meltdown".
Gallery
Posters
Screenshots
Videos
Trivia
The song Firewalk plays at the punk club is "Are You Ready For Me" by the band Pretty Vicious.
The band's name likely is a reference to the movie Twin Peaks: Fire Walk with Me, the prequel to the original Twin Peaks series, which heavily inspired the original Life is Strange game.[note 1]
In the first Life is Strange game, there is graffiti in the bathroom of the Two Whales Diner that says "FIREWALK WITH ME". Max can take an optional photo of this; taking the photo awards the "Compressed" achievement. 
The radio host also revealed that Firewalk has produced three LPs, one of which is called "Scars" featuring the song "Lights, Camera, Meltdown".
According to Concept Artist Scott Willhite, an early name for the band was "Gath". A poster with the name can still be seen in Chloe's room.[1]
In Life is Strange: True Colors a Firewalk Poster can be seen in the record store, which Alex comments with "Haven't listened to Firewalk in a while... I liked their old stuff better anyway."
Notes
References