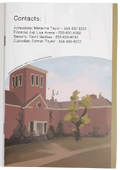 Lisa Avena manages financial aid at Blackwell Academy. She is mentioned in the school brochure seen in Episode 5 of Life is Strange, "Polarized", with her phone number 555-630-8233.
In The Awesome Adventures of Captain Spirit, Lisa is mentioned on a real estate course website as the "Best Realtor 2015". The advertisement for the course reads as follows:
OUR TEN-WEEK COURSE WILL GIVE YOU EVERYTHING
YOU NEED TO START SELLING HOMES AND MAKING
DREAMS COME TRUE!

LISA AVENA IS THE NUMBER ONE REAL ESTATE
AGENT IN THE NORTHWEST FEATURED ON NPR
AND VOTED "BEST REALTOR 2015"!

BEST
REALTOR
2015

Community content is available under
CC-BY-SA
unless otherwise noted.