Fire Emblem Warriors: Three Hopes - The Loop
Play Sound
​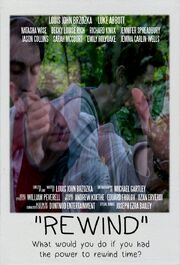 "Rewind" is an original live-action web series based on Life is Strange. The story is a five-part episodic series following the character of Max, a male character based on Max Caulfield, and his dysfunctional childhood friend Charlie, based on Chloe Price.
The series was created by UK filmmakers TheDramaKings with the story being set in an unnamed UK town with an all-UK cast. The full series was made available to view on YouTube with Episode 1 being released on September 20th, 2015 and Episode 5 being released on May 8th, 2016.
The series features a cast of local actors and a soundtrack sourced from the Life is Strange community with contributions from Koethe and Eduard Frolov.
Story
Maxwell Caulfield, a photography student, suddenly gains the ability to rewind time after experiencing a very vivid dream. Along with his childhood friend Charlie Price, Max tries to find a missing person and himself being drawn into the world of a mysterious local drug gang as he struggles to control his new power.
Similarities and Differences
The script for Rewind draws on elements from the game in terms of the storyline and the characters. The story balances an original plot with threads of the storyline of the game. The characters exhibit some traits from the characters in the game, as well as drawing influence from their names. There are also references to lines from the game with Charlie using the word "hella", much to the bemusement of Max.
Cast
Louis John Brzozka as Maxwell Caulfield
Luke King Abbott as Charlie Price
Natasha Wise as Danielle Warren
Becky Louise Rich as Alice Kelly
Richard Knox as Andy Fields
Jennifer Spreadbury as Becky Scott
Emily Holyoake as Bethan Harris
Jemma Carlin-Wells as Jade Alexander
Jason Collins as David Price
Sarah McCourt as Judith Price
Trailer
External Links